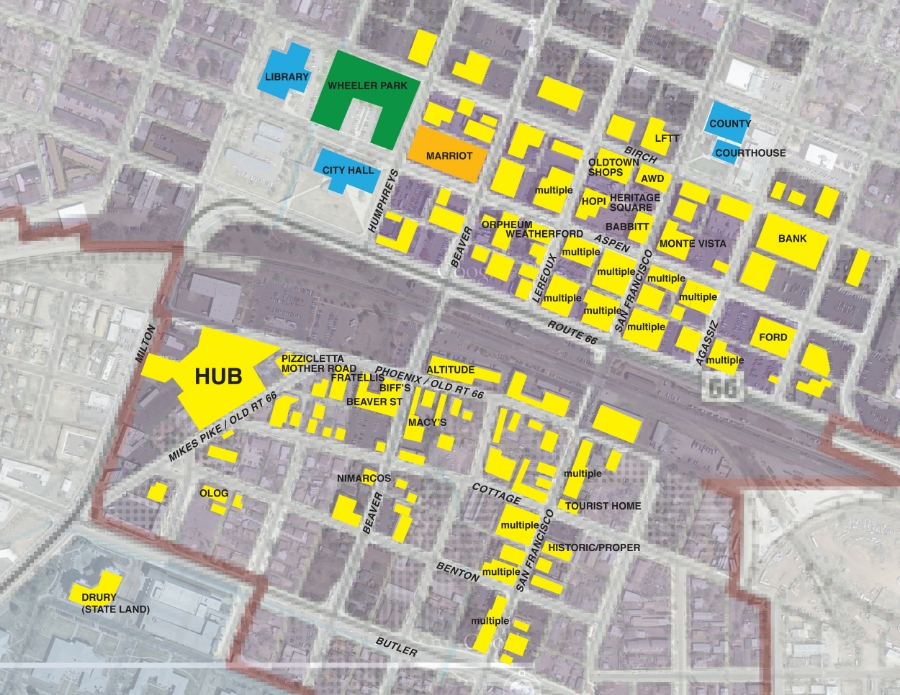 1. The Downtown Regulating District overlays the original, historic Flagstaff areas where transect zoning is a development option. Click image to advance to the next.
2. A close up shows the downtown area and north Southside. A 7-block downtown area is designated T6 and allows the largest, most dense buildings. T5 Mainstreet steps down in intensity, and T4 Neighborhood steps down further in both density and building size.
3. Existing commercial buildings are outlined here. Note that commercial buildings in the T6 downtown area generally tend to be larger than those in the T5 and T4 Southside. Note that some of the larger buildings both in the north and south sides are actually multiple attached buildings.
4. The footprint of the proposed Hub 2.0, which has been submitted as a transect project and is currently under City review, is added here. Note that it's footprint is larger than any single building in the entire transect zoning area. While this graphic does not address height, the Hub 2.0 is taller than most buildings in the T6 zone and all buildings in existing T5 and T4.
5. A close up of the proposed Hub 2.0 building footprint.
6. The new Marriott Hotel, now under construction, was permitted as a non-transect project and is not subject to form-based regulations. The Hub is proposed as a transect project and is subject to form-based regulation. Yet two non-transect Marriotts could fit within the proposed transect Hub 2.0—with room to spare.
7. The 5 largest existing commercial buildings in the T5 downtown area are compared here with the proposed Hub 2.0 in the T4/T5 Southside.
8. A comparison of downtown government buildings and the proposed Hub 2.0.
9. The Hub is larger than a Flagstaff city block.